AANS 2023 Neurosurgeons Advocates In Patient Care
connecting to the future of neurosurgery
Neurosurgeons play a critical role in advocating for their patient's health and being their voice in a hospital setting on a case-by-case basis. Therefore, it's crucial to provide them with the best possible tools to ensure optimal surgical outcomes. Neurovision Medical Products is dedicated to creating surgical devices that incorporate specialized IONM technology that assists surgeons in preserving motor nerves and ultimately improves patient outcomes. 
Neurovision Medical Products is looking forward to attending another American Association of Neurological Surgeons (AANS) Annual Meeting, where we have a unique opportunity to learn and connect with the leaders in neurosurgery. Our focus at the conference will be on showcasing our innovative surgical devices, such as the DryTouch suction stimulation probe, which assists surgical efficiency and informed decision-making. We look forward to sharing these tools with the neurosurgical community and advancing the field of neurosurgery. 
This year's 2023 conference is a fantastic opportunity for the neurological community to come together in Los Angeles, California. The attendees range from neurosurgeons worldwide with various specialties, including spine, neuro-oncology, cerebrovascular, trauma, general, pediatric, skull base, and more. Neurovision Medical Products is committed to supporting the AANS in its efforts to promote education, efficiency, and peer connection among neurosurgeons. Our goal is to offer surgical solutions in the form of intuitive and innovative devices that can optimize surgical outcomes by providing them with real-time, accurate information during surgery.  
Surgeon-driven IONM to Protect Neurological Function
DES for Brain Mapping and Tumor Resection
Please join Neurovision Medical Products to preview DryTouch, a Frazier suction probe integrated with stimulated EMG. DryTouch is a surgeon-driven design used during tumor resections and brain mapping with direct electrical stimulation (DES).
DryTouch is a cross-functional probe that delivers continuous EMG stimulation to assist in identifying critical areas related to the central and peripheral nervous system while providing the surgeon with controlled, gentle suction to maintain a clear surgical field. It's approved for use beneath the blood-brain barrier, with a custom Frazier handle that enables maximum suction control and real-time cortical and subcortical motor mapping.
By utilizing DryTouch, neurosurgeons can optimize nerve preservation with EMG technology that uses evoked potential to identify and preserve the areas responsible for brain function that control speech, sight, and movement while achieving maximal tumor resection. DryTouch also delivers monopolar stimulation, enabling intraoperative DES during neurosurgery to map and assess cognitive function in real-time, including "awake surgery" to engage the patient in basic questions and simple motor commands to record and measure "true" evoked potential.  
In addition to its versatility, this single-use device comes in two lengths and is cost-efficient, making it an even more attractive addition to any neurosurgeon's toolset.  
We look forward to discussing how the streamlined design of DryTouch is ideal for intuitive intraoperative neuromonitoring (IONM) and how it can help you provide optimal patient care.
Neurosurgeons are known as the leaders in advancing surgical techniques to improve surgical outcomes.
AANS is the opportunity to learn about the newest studies and clinical applications and watch how peer connections create change in healthcare and improve patient care! These AANS 2023 courses and speakers are on our schedule, and we hope you will join us in the audience.
Practical Clinic:
Technological Adjuncts for Malignant Brain Tumor Surgery
Los Angeles Convention Center, 403A
8:00 am – 11:30 am PST 
Course Directors:
Daniel Orringer, MD – NYU Langone Health
Manish Aghi, MD, PhD – University of California, San Francisco (UCSF) 
Faculty:
Francesco DiMeco, MD (he/him/his) – Fondazione Istituto Neurologico C.Besta
Walter Stummer, MD – Department of Neurosurgery, University of Münster
Andrew E. Sloan, MD, FAACS, FACS (he/him/his) – Piedmont Health
Michael Vogelbaum, MD, PhD – Moffitt Cancer Center
Constantinos G. Hadjipanayis, MD, PhD, FAANS (he/him/his) – University of Pittsburgh School of Medicine 
Practical Clinic:
Brain Mapping Techniques
Los Angeles Convention Center, 403A
1:00 pm – 4:30 pm PST

Course Directors:
Guy M. McKhann, MD (he/him/his) – Columbia University
Gerald Grant – Duke University 
Faculty:
Lorenzo Bello – Università Degli Studi di Milano 
Hugues Duffau, MD, PhD – Montpellier University Medical Center 
Jorge Gonzalez-Martinez, MD, PhD – University of Pittsburgh 
Richard W. Byrne, MD – Rush University Medical Center 
Mitchel S. Berger, MD – UCSF Department of Neurological Surgery 
Nader Sanai, MD – Barrow Neurological Institute 
Scientific Session II: Spine
Los Angeles Convention Center, 408A
1:30 pm – 5:00 pm PST 
Moderators:
Scott Meyer, MD (he/him/his) – Altair Health 
Charles Sansur, MD, MHSc, FAANS – University of Maryland 
Luis M. Tumialan, MD, FAANS – Barrow Brain and Spine
Advancing Neurosurgery Since 1931
Advancing Neurosurgery Since 1931
The American Association of Neurological Surgeons (AANS) can be traced back to 1931, originally established as the Harvey Cushing Society. With over 12,000 members worldwide, the AANS is dedicated to promoting high standards of patient care and advancing the field of neurological surgery through education and scientific research. This year, the AANS conference will coincide with the Global Conference, which will be held in partnership with the Federación Latinoamericana de Sociedades de Neurocirugía (FLANC) and the Asian Australasian Society of Neurological Surgeons (AASNS).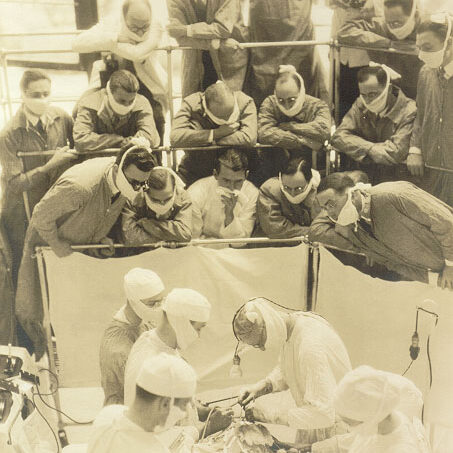 Discover How DryTouch Assists in Neurosurgery
Neurovision Medical Products will be highlighting the DryTouch suction stimulation probe at AANS 2023 due to its unique benefits for neurosurgeons.
DryTouch enables maximum control of suction and continuous monopolar stimulation to support a maximal tumor resection, ultimately improving patient outcomes. According to a study published in the Journal of Neurosurgery, "stimulation mapping has become a critical technique for ensuring maximal safe tumor resection and preserving function in eloquent cortex." The DryTouch probe integrates this crucial stimulation mapping with Frazier suction technology, making it an essential addition to any neurosurgeon's toolkit.