Neurovision Medical Products is excited to attend AAES annual meeting.
American Association of Endocrine Surgeons embodies the dedication to diagnosing, understanding, and surgical management of endocrine disorders. Endocrine surgery is the technical mastery and comprehensive care plan for endocrine disease of the neck and abdomen.¹
The annual meeting signifies the American Association of Endocrine Surgeons (AAES) mission of advancing the art and science of surgery for thyroid, parathyroid, adrenal, neuroendocrine pancreas, and gastrointestinal tract conditions. This year's show will be a little different from previous meetings. The 2022 Annual Meeting will be a hybrid event hosted at the Hilton Downtown Cleveland with virtual opportunities for sponsors and attendees alike.
Historical Partnership & Future Support
Neurovision Medical Products (NMP) began supporting AAES's dedication to endocrine disease research in 2004 at their annual meeting in Charlottesville, VA. The endocrine surgeons of AAES were early adopters of the Neurovision SE and Dragonfly electrode as an intuitive and efficient intraoperative nerve monitoring system. The dedicated RLN monitoring technology allowed the surgeons to integrate nerve identification and preservation into thyroidectomies. Preservation of RLN function is critical to patient outcomes.
Endocrine surgery has been positively transformed, since its early decades due to the dedication of its leaders, significant advances in training, and enhanced surgical technology.² NMP strives to evolve in step to provide a product line that matches the needs of the surgeons most efficiently and reliably.
Since 1973 NMP has focused on enhancing patient outcomes by combining surgical principles with electrical engineering. We are proud to continue our support of endocrine surgery as a pioneer in intraoperative nerve monitoring technology. Almost 20 years after the first show, we continue to collaborate with AAES and their pursuit to advance medicine and improve patient outcomes.
"Our endocrine surgery legends offer us a glimpse of what it has been like to be leaders in a fledgling field in the 1970s and 1980s and how the specialty has transformed and how training has been altered."
- AAES History
Endocrine Surgery Legends
The American Association of Endocrine Surgeons creates learning environments that allow fellows the opportunity to listen and interact with some of the legends in the field. Many of these AAES members altered the course of endocrine surgery into the specialty we embrace today.
AAES shares about some of those notable members and videos from past meetings: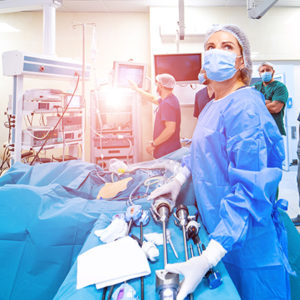 NMP TECHNOLOGY,
designed FOR SURGEONS
Intraoperative neuromonitoring expands surgical opportunities to improve patient care.