Real-time Nerve Monitoring
Nerveäna® Plus assists surgeons in the prevention of neuropraxia and surgical nerve injury in real-time. By integrating EMG monitoring with the surgical technique, NV+ can detect the nerve's proximity even before the nerve is visible.
Combined with EMGView8 software to visually expand alerts and nerve activity onscreen supports informed, surgical decisions throughout the procedure. The intuitive technology supplies meaningful information about nerve activity in real-time.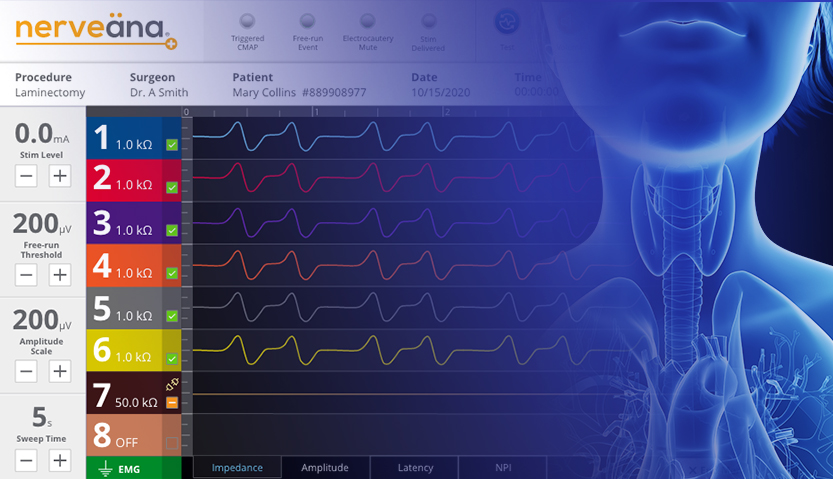 Nerveäna Plus features patented EMG technology to deliver insights about nerve function to add clinical value during the surgery.
Electromyography (EMG) is the only IONM method that provides constant, real-time feedback about neural activity during surgery, accurately detects and localizes motor and mixed nerves embedded within tumors, and reliably assesses the integrity of cranial nerve motor function¹.
NV+ transforms EMG activity into audio tones, visual details, and easy-to-read values delivered instantly on the touch screen display by EMGView8.
1. Singh, Harminder et al. "Intraoperative Neurophysiological Monitoring for Endoscopic Endonasal Approaches to the Skull Base: A Technical Guide." Scientifica vol. 2016 (2016): 1751245. doi:10.1155/2016/1751245
Efficient, Flexible, Intuitive
NV+ features automatic impedance checks, preset procedures, customized physician profiles, store surgical configurations, preferences, and record and save monitoring reports with one click. As a result, the system helps save time and promote OR efficiency.
EMGView8 is easy to use, features a guided setup, and allows unlimited custom surgery preferences. Clinicians can access over 20 surgical procedures with an onscreen electrode setup guide and automatic IONM settings. Nerveäna+ integrates IONM into the surgical flow, instantly apply the surgeon's preferred settings and fine-tune them even further during the procedure.
Standardized instruments and color-coded components create consistency in setup and inventory management. The system connects to a variety of OR technology to improve the surgical flow of complex procedures. The NV+ is slim and ergonomic to incorporate with the OR environment, team, and technology seamlessly.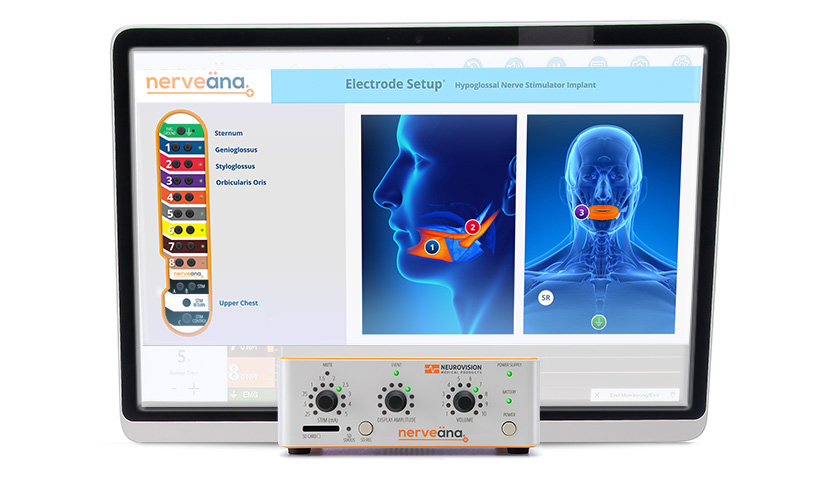 EMGView8 is the innovative software developed by Neurovision Medical Products exclusively for the NV+. The powerful IOM tool transforms nerve activity into audio tones, visual details, and easy-to-read values that support informed surgical decisions.
EMGView8 automatically displays the active channels for a clear overview of all evoked and free-run EMG responses. Each channel delivers an EMG waveform, NPI values, impedances, and threshold alarms. The touch screen allows clinicians to toggle between the big picture and visually inspect a specific event or channel.
The interactive dashboard can enhance the surgeon's ability to assess real-time nerve activity, optimize a procedure and preserve the nerves at risk.