DryTouch

EMG Stimulation and Surgical Suction
DryTouch integrates monopolar stimulation with a Frazier suction instrument for brain mapping, minimally invasive thyroidectomies, and spinal surgeries.
DryTouch is a cross-functional surgical suction probe and EMG stimulation device. DryTouch supports surgeons to deliver a controlled, gentle suction. In addition, the Frazier design removes excess debris from confined surgical spaces and provides EMG stimulation. DryTouch also improves the surgical plan and creates an ideal real-time nerve monitoring space by blending these functions. Overall, DryTouch maintains a clear surgical field and reduces the potential current shunting of applied stimulation.
DryTouch Intraoperative Neuromonitoring EMG Stimulation Probe
| Item Code | Description* |
| --- | --- |
| PSS13DF-5 | DryTouch Single-Use Frazier Monopolar Stimulation Suction Probe, 13 cm Shaft, 7 Fr |
| PSS26DF-5 | DryTouch Single-Use Frazier Monopolar Stimulation Suction Probe, 26 cm Shaft, 7 Fr |
*each kit includes STIM return needle and ground needle
Frazier suction, two lengths
DryTouch is a suction probe with a custom Frazier handle that delivers IOM EMG stimulation. The unique probe enables maximum control of suction and continuous monopolar stimulation to support a maximal tumor resection¹.
DryTouch is a 7 French Lumen and is available in two sizes lengths, 13 cm, and 26 cm.
Enhanced Brain and tissue Mapping
The all-in-one device can improve suction control while identifying the critical areas related to the central and peripheral nervous system. DryTouch is approved to be used beneath the blood-brain barrier, providing real-time cortical and subcortical motor mapping.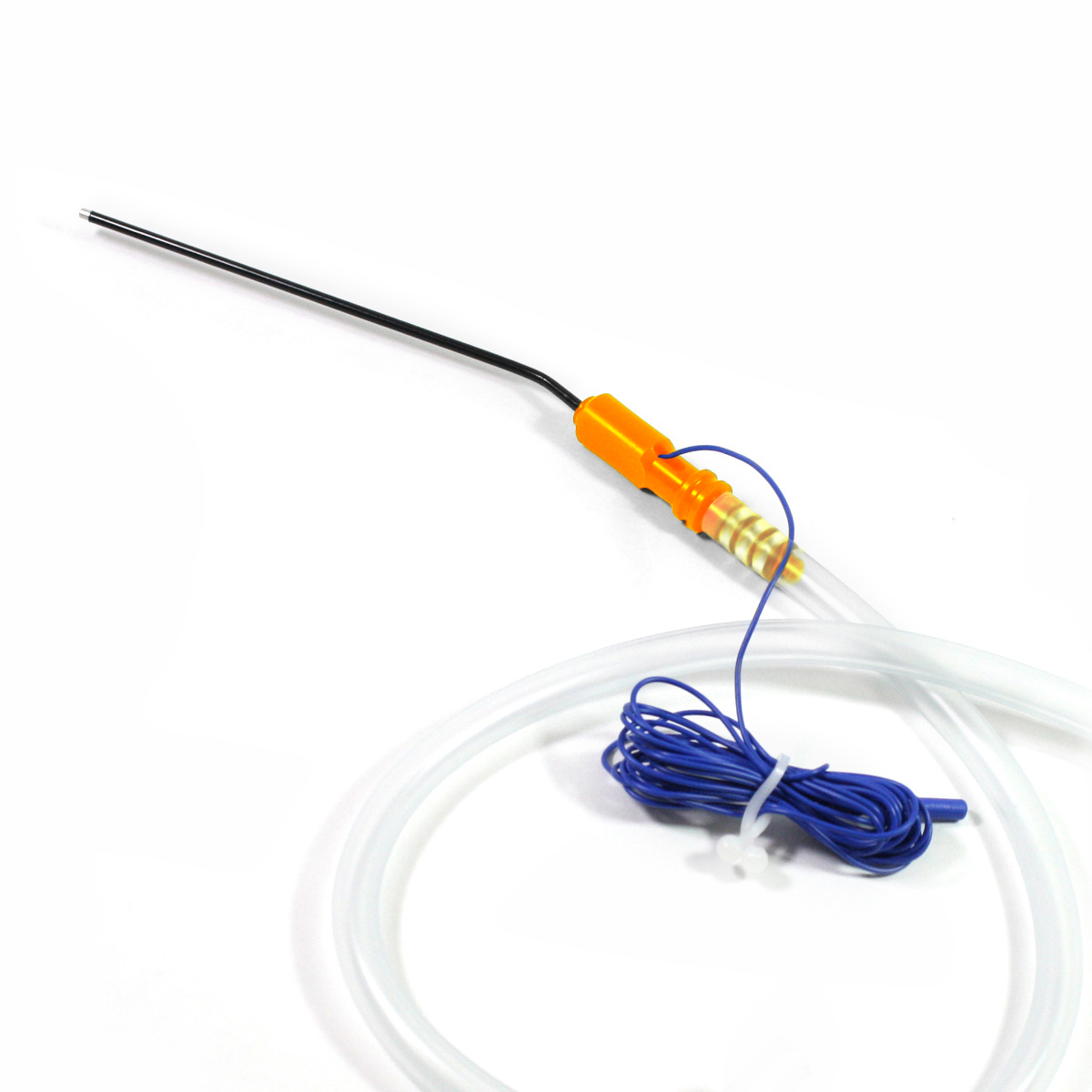 DryTouch probes have a pre-attached lead wire with a standard DIN connector that is compatible with Nerveäna or any nerve monitoring system.
The Frazier handpiece features a tapered connector that attaches to standard suction tubing. The unique design is universal and cost-effective.
Frequently Asked Questions
Yes, DryTouch suction stimulator probes are fully compatible with any IOM EMG nerve monitoring system. The monopolar probes feature a pre-attached leadwire with a standard DIN (42802) connector for a seamless connection.
DryTouch is a Frazier suction cannula with a 7 French (2 mm ID) tip and is available in two tube lengths, 13 cm, and 26 cm. The two sizes are ideal for delivering precise suction and stimulation in a variety of procedures including brain mapping, ENT, spine surgery, and MIS thyroid surgery.
No, the Frazier handle has a universal connector (graduated/tapered) that easily connects to the most common sizes of surgical suction tubing.
Yes, the probe features a teardrop-shaped suction interrupter that gives the surgeon extremely fine suction control. The teardrop design, similar to the Fukushima suction cannula, allows surgeons to reach full suction power or absolute zero suction instantaneously. This technique improves control and can decrease the potential damage to the Central and Peripheral Nervous System and other critical areas1.
---
Dujovny M, Kositzke C, Sosa P, Cremaschi F (2018) Frazier Suction Cannula Fluid Control Technical Note. Neurosurg Cases Rev 1:005. doi.org/10.23937/ncr-2017/1710005
Yes, the device can be used throughout the human body and beneath the blood-brain barrier.
DryTouch is a Frazier suction cannula engineered to deliver monopolar IOM EMG stimulation, the insulated tubing is available in two lengths (13 cm and 23 cm) and features an atraumatic distal tip (7 French).
The 13 cm cannula is most commonly used in brain mapping, tumor resections, mastoidectomy, tympanoplasty, parotidectomy, and instrumented spinal fusion (pedicle screw).
The 26 cm cannula is useful in all minimally invasive thyroidectomies (TOETVA, BABA, etc.) and MIS lateral spinal fusion.
DryTouch probes are versatile given they provide two essential functions; clearing the surgical field and nerve/tissue mapping, both with precision and control that can be utilized in many procedures.
No, the single-use probes are individually packaged and sterilized with the leadwire attached. Each probe comes fully assembled and ready for immediate surgical use.
No, DryTouch probes are FDA-approved single-use devices. According to the FDA, a single-use device also referred to as a disposable device, is intended for use on one patient during a single procedure.