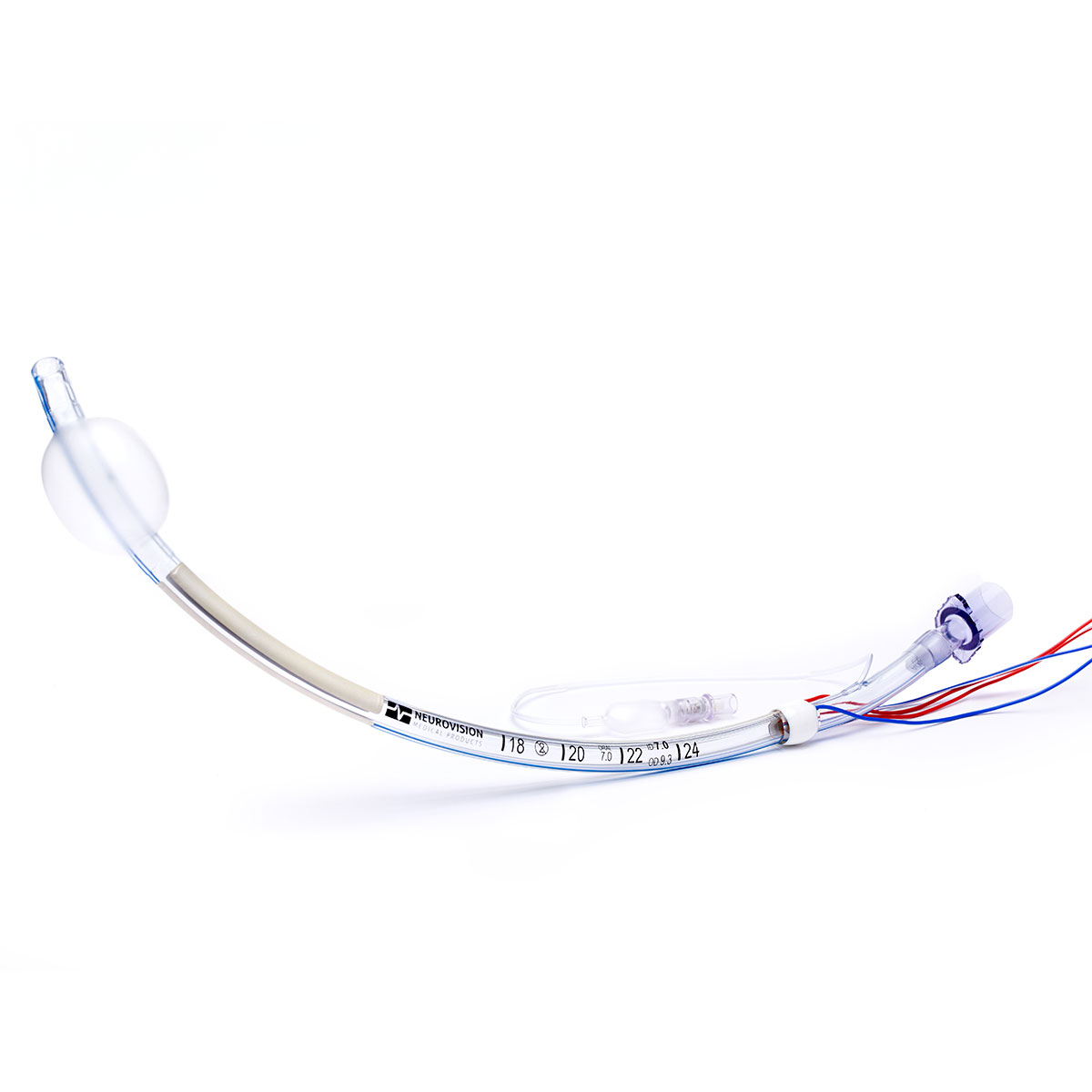 A unique intraoperative neuromonitoring EMG tube that is universal in function and compatibility. Reliable recurrent laryngeal nerve monitoring on any system.
Intraoperative neuromonitoring EMG tube electrodes provide surgeons valuable insight into nerve function and maintain an open patient airway. The new EMG tube enhances RLN monitoring. The three atraumatic electrodes improve contact with vocal cords for more reliable EMG signals and reduce trauma to the airway. Cobra 3-Plate EMG tube can be used as a 1-ch or 2-ch electrode and is compatible with single and multi-channel nerve monitoring systems.
Cobra 3-Plate Intraoperative neuromonitoring EMG tube
| Item Code | Product Description* |
| --- | --- |
| LTE7003PS-5 | Cobra 3-Plate EMG Endotracheal Tube, 6 mm |
| LTE7003PM-5 | Cobra 3-Plate EMG Endotracheal Tube, 7 mm |
| LTE7003PL-5 | Cobra 3-Plate EMG Endotracheal Tube, 8 mm |
*each kit includes a STIM return needle and a ground needle
Atraumatic EMG Electrodes
NMP designed and patented atraumatic EMG electrodes for safe, continuous RLN monitoring.
The conductive plates are durable and flexible for reliable detection of nerve activity and reduced trauma to the airway.
Electrodes have a minimal profile and are integrated with a standard endotracheal tube for easier intubation.
Cobra 3-Plate is compatible with single-channel and multi-channel nerve monitoring systems. NMP increased the electrode size and length to improve contact with the vocal cords, even in longer airways or larger patients. The universal electrode uses color-coded wires that identify the lateral and posterior electrodes.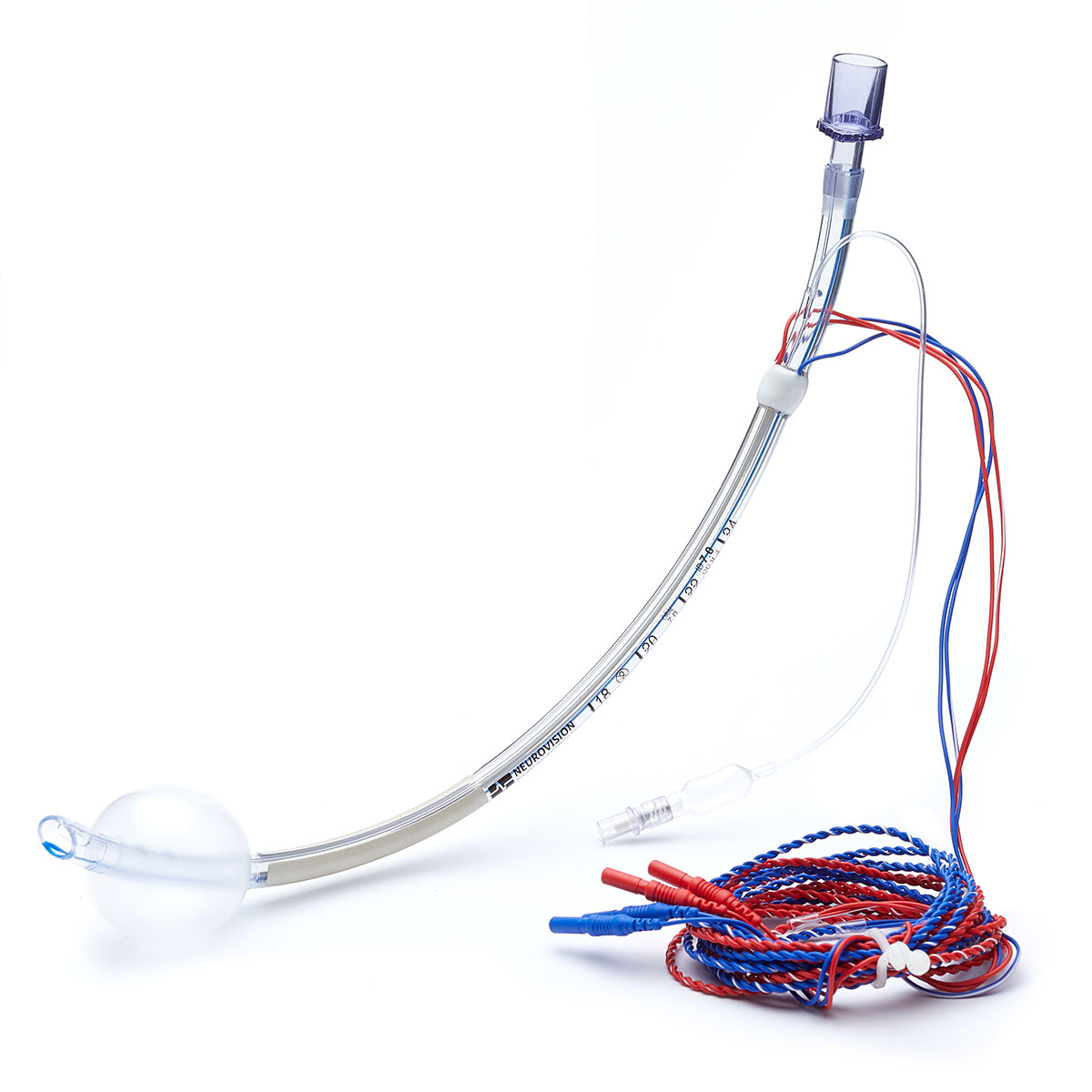 Cobra 3-Plate EMG ET tube has multiple features to improve intraoperative neuromonitoring performance.
The high volume, low-pressure cuff, improves the air seal on the trachea.
The electrode and wire integration is hermetically sealed to prevent fluids from disrupting the EMG signal and reduce unwanted functional issues. All lead wires use a standard DIN (42802) plug for an easy and secure connection to any nerve monitoring system.
An innovative NEW design and patented technology creates a truly universal intraoperative neuromonitoring EMG tube with an enhanced performance overall.
Frequently Asked Questions
Yes, Cobra 3P is fully compatible with any IOM nerve monitoring system. Cobra 3P features color-coded leadwires with standard DIN (42802) connectors for an easy set-up on single-channel and multi-channel systems.
Cobra 3P EMG ET tubes are available in 6mm, 7mm, and 8mm. The patented EMG technology is integrated onto standard PCV endotracheal tubes and the low (almost zero) profile electrodes do not impact the tube size.
Cobra 3P is used in procedures where the recurrent laryngeal nerve (RLN) is at risk of injury; e.g. thyroidectomy, parathyroidectomy, ACDF. Cobra 3P EMG endotracheal tubes are intended to provide two essential functions; IOM EMG monitoring of vocal cord (laryngeal musculature) activity while maintaining an open airway for the patient during surgery.
No, intubation with a Cobra 3P should follow the current medical techniques with the recommendation of using a Glidescope. Once the endotracheal tube is placed the electrode plates should maintain direct contact with the vocal cords. When using the Cobra 3P, avoid scraping the electrodes during intubation. Otherwise, electrode damage from this can impede accurate EMG signals. Once intubated the EMG endotracheal tube should be secured in a midline position, a side rotation is not recommended.
Cobra 3P is similar to most EMG ET tubes, like the Cobra 2-Ch the solid red and blue lead wires correlate to the lateral electrodes (right and left) but the unique difference is that the 3rd electrode is connected to two lead wires (red/white & blue/white) creating a singular posterior reference electrode. This design optimizes the EMG response by maximizing the area covered by the electrodes and produces redundant monitoring of the vocalis muscles if tube rotation is inadvertently experienced.
No, the electrodes have been enhanced in length and symmetry improving the target area. The glottic markings are no longer needed but the depth markings (18 – 24 cm) are present.
Yes, the Cobra 3P has the longest electrode plates of any EMG ET tube on the market allowing it to accommodate large patients and longer airways. To assist in accurate depth placement the 18-24 cm depth markings are visible on the ET tube.
No, although the new electrode geometry is designed to reduce alignment sensitivity, it is recommended that Cobra 3-Plate be aligned and maintained to the middle of the pharynx and positioned with the red wire on the right and the blue wire on the left. This position creates the proper right/left contact between the vocal cords and its respective electrode/plate.